…
For a better experience please change your browser to CHROME, FIREFOX, OPERA or Internet Explorer.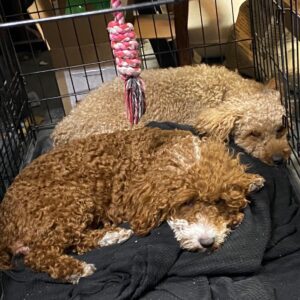 Yorba Linda, CA, USA
Last active : 1 month Ago
Our puppy parents as our profile picture. Gouda and Muenster are the proud parents of 8 beautiful puppies! Yes they are named after cheese...WHY? I grew up with poodles all my life and they always had "foo foo" names as poodles often do, and I didn't want "cheesey" names...so my kids said CHEESE! There you go. We have had Pepperjack, Colby, Brie...and now Gouda and Muenster. Poodles very live long lives, longer than many breeds. None of ours are related to one-another. They didn't come from puppy farms. Muenster is AKC however Gouda is not. Why doesn't Gouda have AKC? Because the family we bought her from never sent us her paperwork. That happens when you buy on many sites like this. Some people lie...or give fake documents. I choose to be truthful. My vet says Gouda is exactly what I paid for-- a perfect miniature poodle --although no papers to prove it. Have to say--I adore her! Our pups are never taken out in public--aren't around areas that could make them ill. Gouda and Muenster are my babies, but there are 8 perfect little puppies that need to be part of your family. Hurry before they are gone!
Ad(s) posted by
Cheeky Powell
Top