…
For a better experience please change your browser to CHROME, FIREFOX, OPERA or Internet Explorer.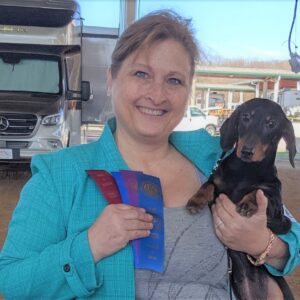 Lyles, TN
Last active : 1 year ago
Located in Lyles, TN Just south of Dickson, TN (I-40 Exit 172) Our family started in the 70's. Heather Ridge was established in 2007, but I took over from my daughter in 2010. I made a very important decision to start raising both Champion Bred Dachshund puppies AND Pets. We kept the sweet, loveable, old style dachshunds, but we added AKC Champion bloodlines to our program for those customers who want show dogs or champion lines for breeding. We also use them to cross back on our approved pet females. Pet Price for a champion bred dog is the same. We only ask more if you are going to use the champion line pup for breeding and will need their AKC Papers. When we talk about "papers" we are referring to AKC registration papers that allow you to use your puppy as a breeder or to show them. Pets do not come with papers. If you get papers, you will get full AKC registration. We do not offer limited papers.
Ad(s) posted by
Dominique