…
For a better experience please change your browser to CHROME, FIREFOX, OPERA or Internet Explorer.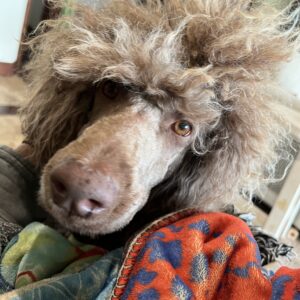 Oak Park , MN
Last active : 3 months ago
We are new to the dog breeding community, this litter being only our second; but have been proudly doodling for the about 5 years or so and hope that we are able to continue sharing our love for our pets with humans. We currently have 3 dams, Daisymama (profile pic) she's our first female in the house and she loves to let everybody know it! She's an amazing Labradoodle. I could go on and on about how she's the best. She's 4 and has blessed us with one litter. Next dam we snatched up is the mama to the litter currently for sale, Pepperlongstockings. Pepper is our Aussiedoodle. She is a workaholic and I was shocked to learn she decided to have Spring babies with as busy as she is successfully hunting gophers and birds on our place. She stepped into motherhood with such grace. So proud of this one and can't wait to keep loving her for years to come. Last dam on our roster is, Gingersnap! She's our sweet golden doodle. When I say we are doodle obsessed, it's an understatement but anyway. She's a honey pie that couldn't be passed up when you have to have all the best dogs…lol Dudes, we have a dood that you have to meet. Digger Shay (large dood pictured in our ad, running through the snow, yea that's him). He sired this litter. His first and LAST :( We made the hard decision to take Digs out of our program but he helped give us a beautiful litter that we will never forget. He's our main dood, picked him up in 2017. I would recommend getting yourself a version of this model. Available NOW! For sure not listed last because of size is our 120 pound Bernese Mountain guy, Gustafson. He's a looker in terms of Bernese standards. He showed us what he's made of when he and Daisy had their first litter! Can't wait to see what he shares in the future! Ok, that covers our herd for now. Until the next update. Happy Doodling, MJ & MJ Shay
Ad(s) posted by
Missy Bruce-Shay
6 week old Bernedoodle puppies from our Aussiedoodle dam and registered Bernese Mountain Dog sire. These puppi...