…
For a better experience please change your browser to CHROME, FIREFOX, OPERA or Internet Explorer.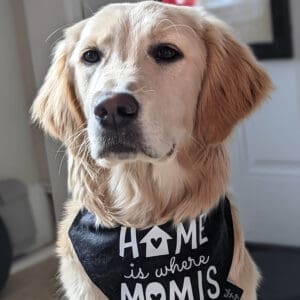 Belmont, MA
Last active : 23 hours ago
We believe every Golden Retriever is an incredible creature and that you will be happy no matter which one you choose. It is more important they are cared for and patiently taught how to fit into your life. Among Golden Retrievers, we believe we have found certain qualities that make a Golden even more special. We have spent great efforts to get two of these dogs into our home and are proud to provide the opportunity for others to have them as well. What makes our parents and puppies stand out: 1. Body Shape - Our goldens have the ideal shape which vets consider the healthiest; with a visible waistline that has a tuck-up in the abdomen, and balanced body proportions with an ideal length-to-height ratio. 2. Head Shape - Our goldens do not have ears positioned low, starting in line with their eyes; rather, they begin in line with the top of their head. They also don't possess large, blocky heads with a flat appearance; instead, they have a streamlined, classic head shape with a muzzle proportional to the rest of the head. Most importantly, their eyes are friendly and intelligent-looking. 3. Weight - We're proud to combine two ideal weight goldens— with a 58lb dam and 60lb sire. These healthy weights are crucial to prevent health issues, sustain energy levels, and ultimately enhance their overall quality and length of life. Despite the established weight standards, it's common for breeders to use and produce dogs at or above the ideal maximum weight. 4. Temperament - Our goldens quickly learn and exhibit safe off-leash behavior, staying close whether in a city park, a wooded trail, or driveway. They prefer company and don't wander far. They are very friendly with other dogs and we often host dogs with traveling families. They are well-mannered and respect boundaries, and never attempt to take food from tables or counters. 5. Trainability - Our dogs easily train and demonstrate self-control in managing their excitement. At mealtime, they are extremely eager to eat but still wait for our permission to begin. 6. Color - What makes a light gold-colored dog unique is the distinctive color gradient on the body. This gradient starts with a pure white in the feathering, while the backs and ears shine with a solid gold tone. We enjoy the way that each dog has varying shades of color organized on their body depending on how their double coats grows in and develops. We are very confident in the looks and temperament of our goldens and are sure that they will bring great joy to the homes they go. More @kadogoldens2425 on Instagram
Ad(s) posted by
Kado Goldens
$1,350
Puppies for sale by breeder to go home November 6th: LIMITED SPACE remaining on our only upcoming litter rare ...
Posted: 28. September 2023