…
For a better experience please change your browser to CHROME, FIREFOX, OPERA or Internet Explorer.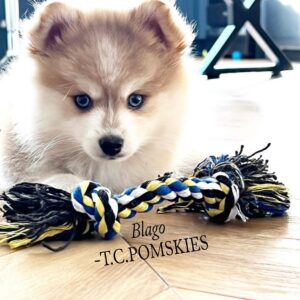 Queen Creek, AZ, USA (Maricopa County)
Last active : 2 months ago
My name is Tanya and I've been breeding pomskies since 2014. I absolutely love what I do and can proudly say Not one of my pomskies have ever had a health issue. My pomskies are a great edition to any home and have the best temperaments.
Ad(s) posted by
Tanya Calderon
Remy is a blue and white Pomsky with hazel green eyes. She is charting to be 12-15lbs. She is such a happy lit...
Reggie is a Blue Merle mini Pomsky. Charting to be 15-18lbs. He has gorgeous green hazel eyes. He's super fluf...
Top