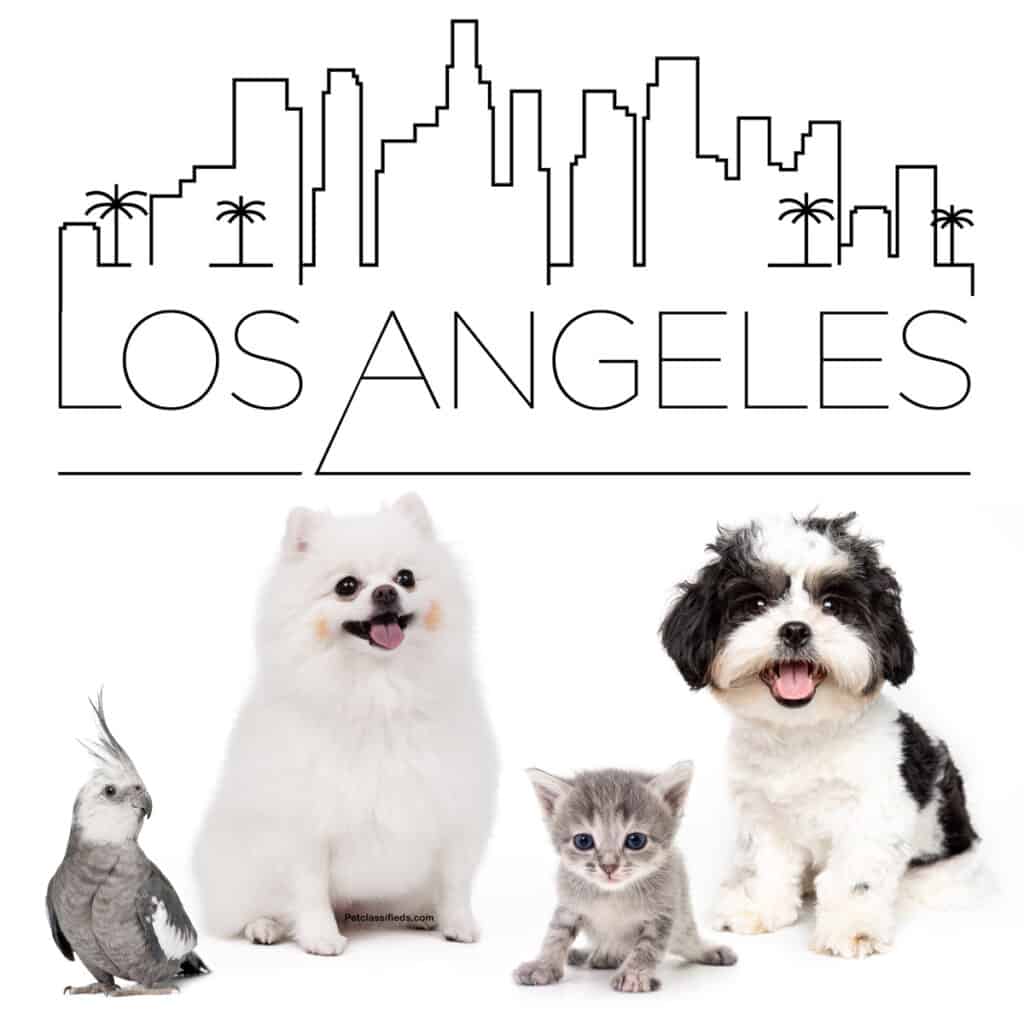 Pets for Sale and Adoption in Los Angeles
Los Angeles is among the best places in the country to buy, rescue, or adopt a pet. Are you in the market for a puppy in Los Angeles? If you want to join the over 40 million pet owners in Los Angeles, then you' ve come to the right place.
Cats
A charming little kitten is an ideal addition to any household, and there are many kittens for sale in various breeds and sizes. There are elder cats for sale for those who don't want to deal with the litter training that comes with a younger pet.
Before buying a cat from one of the sellers of our free classifieds, visit them and, if feasible, set up a house meeting to ensure your potential pet has a seamless transition into their new home. Select ad type "Adoption" to find adoptable cat and kitten breeds that offer an alternative to buying cats and kittens.
Dogs
This is a filter for dogs and puppies in Los Angeles, where you can find dogs and puppies for sale, as well as different dog types and puppies in Los Angeles. Results can be filtered by breed.
Search our free classified ads for Los Angeles for dogs, puppies for sale, and other pets. We provide you with a platform to publish free classified ads or advertisements for dogs for sale, puppies for sale, and all other kinds of Pets for sale in Los Angeles.
Pets for Sale in Los Angeles
When you're seeking a certain sort of pet, such as a turtle, snake, kitten, puppy, or even a bird, our pet classifieds website is the place to go. Use the filters in the top part of this page to search for pets for sale and locate the perfect pet to give a forever home to. It's a significant decision to rehome a pet. In Los Angeles, you can buy, sell, and adopt puppies, dogs, cats, kittens, and other pets. Search the classifieds linked to Los Angeles and find local pets. 
Puppies for Sale Los Angeles
Do you want to get a puppy? Look for pedigree puppies for sale in your area. Look through our classified ads, there are many from reliable breeders. Quality breeders dedicated to giving healthy and happy puppies to families in Los Angeles. Find your new family member by browsing cute, healthy puppies from more than 100 breeds. In Los Angeles, we have a broad selection of puppies. Find a puppy for sale in Los Angeles today. Search among hundreds of puppies or advertise your own. 
Kittens for Sale in Los Angeles
Are you looking for a kitten in Los Angeles? Thousands of kittens are available for adoption or sale from breeders, owners, and shelters. Sort by closest to you in Los Angeles, California, and quickly find the perfect kitten. For radisus seach visit our cats category. We can help you find a new best buddy in your area! You can find the perfect cat or kitten for you with our free classifieds. Find the most recent kittens for sale from reputable sellers and owners. Local breeders and pet owners publish classified ads with us. Today is the day to buy, sell, adopt, and advertise.
Birds for Sale in Los Angeles
Acquiring a bird as a pet can be a highly gratifying experience. Although owning a bird can be a wonderful experience, not all birds are suitable for everyone. There are numerous varieties to pick from, and you must select the right bird for your lifestyle. The best pets are hand-reared birds—view available Birds in Los Angeles, California from aviaries, breeders, and bird rescue organizations.  Reputable breeders have birds for sale, rehoming, and adoption. Check back daily for new bird listings as more birds are added.
Craigslist pets Los Angeles
Craigslist only allows to post ads to re-home, but not sell pets of all kinds on the site and your adverts will mostly be reported and removed in many circumstances. So, if you're looking for Craigslist pets Los Angeles, you've come to the right place. This website is dedicated to the purchase and sale of pets
Dog adoption Los Angeles
Give pets a second shot at life by providing them a secure, loving, forever home. Look through 100+ breeds of attractive Dogs for adoption in Los Angeles. Find your new furry family member.