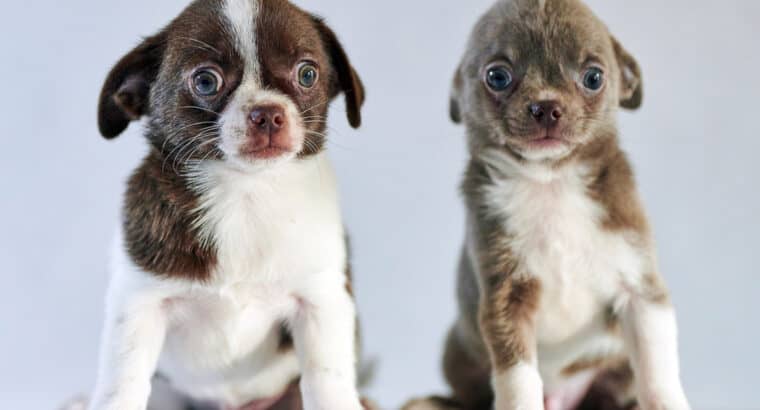 What are the best places to sell puppies online for free? / Image: travelarium.ph Shutterstock.com
Sell Puppies & Dogs Online
Puppies can bring a very great and lasting joy to all types of people and families. For those in search of puppies and those who are selling them, the need for an online junction in which to interact and make those desired transactions is real. While in times past finding a place and method with which to buy or sell puppies online could be fairly difficult, today, this is no longer the case. If you are interested in learning more about how to sell your puppies online or how to sell your dogs online, here's your quick guide to quickly and easily getting up and working in the online puppy market today.
How to Sell Puppies Online
For those new to it, learning how to sell puppies online is a fairly easy and straightforward process. Essentially, as the owner, you will follow a step-by-step process from birth to sale. Here's how it works.
First, as your puppies are born, you'll want to get them checked by the vet and setup for their first treatments and shots. This is also the time to set prices and begin advertising the pups if you haven't done so already. As we'll get into below, there are many great opportunities for advertising puppies for sale online, and as for the setting of a fair price, it's best to do some simple research and see what other puppy owners are selling their similar breeds for. By matching or slightly besting the competition's prices, you'll have set a reasonable price that should garner plenty of interest.
Next, some breeders will now begin accepting deposits to hold specific pups from the litter for sale. These deposits assure the buyer's firm interest and set the selected puppies on hold for purchase once they have been fully weened from mother and are otherwise ready to go. Sellers will also often screen those interested buyers at this same time to be sure their interests in the puppy they are buying are ethical and acceptable.
The next and final basic step in the process of readying puppies for sale is socialization. It is important to socialize your puppies as this ensures their receptiveness to human interaction and a variety of other stimuli. Also, when compared to unsocialized puppies, socialized pups are always more valuable and desirable to the buyer market.
The Best Online Puppy Sale Venues
In the next few sections, we tackle the very common question of "Where can I post puppies for sale?". Knowing the best venue for where to list puppies for sale is important. Luckily, there are many places where puppies are easily listed for sale online. Arguably one of the best ways to sell puppies is through the vast reaches of the internet. In fact, there are places to sell puppies online for free that can reach mass audiences. In that very spirit, the following websites represent some of the best options to list puppies or dogs for sale online.
Petclassifieds.com (Free to list – Free to contact)
Puppyfind.com (Free to list – Buyer contact fee $5.99 to $14.99, if seller buys no $19.99 to $29.99 subscription)
Vippuppies.com (Sellers pay $14.95 per month – Free to contact)
Puppyfinder.com (7 Days Free with limited reach, 30 days = $3.95 + Add ons – Free to contact )
Puppiesndogs.com (1 Ad 1 Month $20 – Free to contact)
Other Advertisement Opportunities
The following represent alternative ideas for where to advertise puppies for sale.
Craigslist (only allows you to charge a small rehoming fee -> Craigslist Prohibited)
The Local Newspaper
Facebook Groups (only cages and pet products are allowed -> Facebook Policies)
Mobile Sales Apps
Local Events
Posting on Local Bulletin Boards Throughout Community
Word of Mouth
Utilizing Your Own Independent Site
Yet another of the possible places to sell puppies online for free actually can come courtesy of you yourself. If you've ever been interested in having your own website and you're also going to be selling puppies now and possibly into the future, this may be the perfect time to get started creating your own website. By listing in this way, you can control literally every facet of the listing style and presentation of your pups and without the possibility of additional charges, listing limitations, and so on.
Sell Dogs Online – Ethics and Laws
It can be easy to get swept up in work like dog breeding and puppy sales without thinking much of the legal and ethical rules that must be followed. Fortunately though, there are few regulations that oversee this sort of transaction in the US today. To sell puppies online or elsewhere, one must simply accurately represent the facts they assert about their puppies and follow all typical sales transaction laws otherwise.
In addition to legal oversight, staying on top of good, basic ethics is also a key part to being a good puppy seller and overall steward for the trade. As such, remember to never try to sell a sick or otherwise injured puppy unless the buyer is completely aware and OK with this. Never try to swap out puppies or make any sort of dishonest moves with your puppies. And always look out for the best interests of your puppies and breeding parent dogs as well.
Sell Puppies Online – Certifications
Another very common area of confusion when it comes to puppy sales today is the matter of official breed certifications. These types of certifications come through enrollment in a professional dog association and subsequent assurance methods through that organization verifying your puppies' genetics. For more valuable and full breeds, this is typically an essential and should be addressed right away, or more ideally, long before the puppies are even born. However, for puppies that are not full breed, the certification process is not usually a concern for buyers or the seller.
Additional Tips for Successfully Selling Puppies Online
We've certainly covered a fair amount of ground here, and for those looking to sell puppies online with success, the process to getting it done truly isn't all that complicated. For even more success in your puppy-selling endeavors, here are just a few more tips we'll leave you with to keep in mind.
When selling your puppies, be sure to fully explain your breeding program and genetics in your advertisements and beyond.
Offer potential buyers an easy way with which to contact you for any questions they may have.
Provide extensive descriptions of each puppy in your advertisement. Be thorough, but also remember to maintain proper grammar and a professional tone throughout your advertisements.
Be completely transparent with any potential buyer in regard to any deficiencies a pup may have as well as the sale process that you will follow to properly transact any puppies. This process should, of course, include any possible deposits, the provision of receipts, the sharing of dates of puppy availability or any other important dates, setting up appointments to meet, and the parameters of the final sales agreement.
For those unfamiliar but interested in learning how and where to sell puppies, the information contained here should be enough to really get things started in the right direction. Be kind, be transparent, and be professional, and you should be able to achieve the exact results you are after. Good luck with your coming online puppy sales!