Popular Filters:
$200 German Shepherd puppies near me
German Shepherd puppies for sale under $400
German Shepherd puppies for sale under $500
$500 German Shepherd puppies
$1000 German Shepherd puppies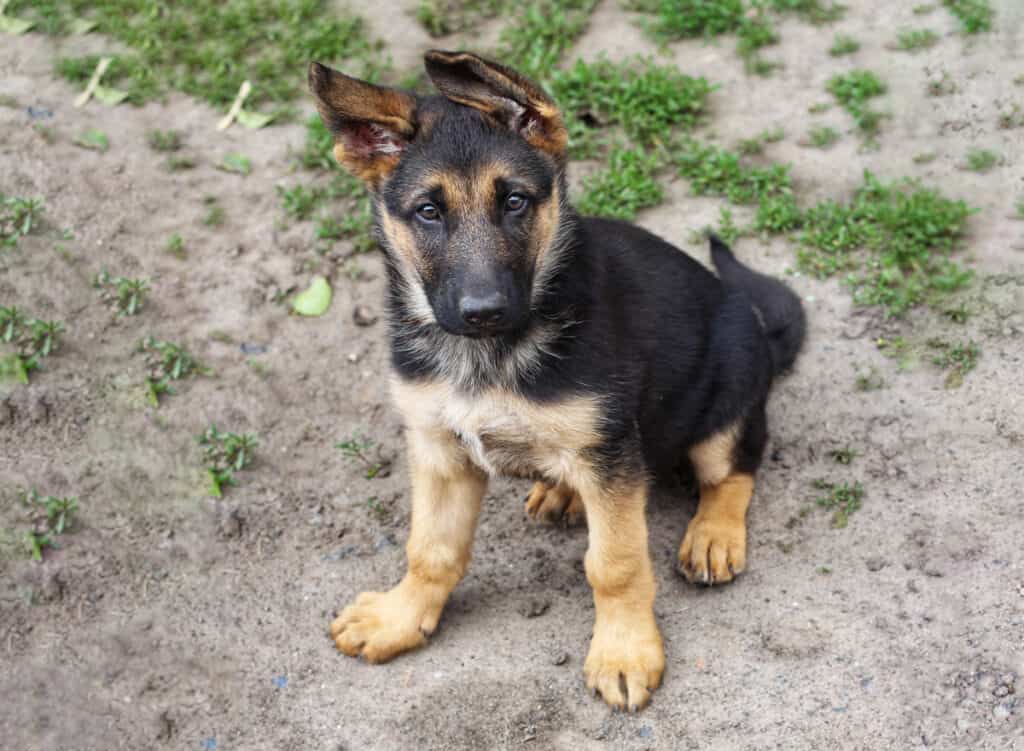 How to Select a German Shepherd for Sale for Your Family
The German shepherd breed has enjoyed overwhelming popularity on and off since 1921. Qualities that caught the attention of the police and military soon grabbed the imagination of the public. It turned out that the German shepherd's loyalty, intelligence, courage, self-assuredness, and guarding instincts were indispensable in the home. German Shepherds easily transferred protectiveness over livestock to people of the household. If you have an active lifestyle and like to engage in interactive events with your dog, you will appreciate the GSD's single-minded drive and her tendency to form strong bonds. To Find German Shepherd Puppies Near Me, getting as much information as possible is crucial to pinpointing what you are looking for in a dog. A German Shepherd rescue or a shelter allows you to consider adults that need a second or third chance at a home. If you opt to choose from a litter of German Shepherd puppies for sale, take a look at the environment and get as much data about the parents as you can. You can research potential hereditary problems. A reputable breeder will let you know the rare weaknesses as well as the strengths of their stock. Ideally, the breeder will allow you to see one or both parents. Visiting the German shepherd puppies for sale will give you a lot of insight before you make the final decision on your purchase. Shyness runs in certain GSD lines, and you want to avoid timid pups. A German shepherd puppy should be adventurous, bold, and open to meeting you and making contact. There are always individual differences in personalities, but the GSD puppy skulking on the outskirts is probably not going to possess any of the desirable characters you want for a working dog, protector, or companion for your active family.
Description of the German Shepherd
Regardless of whether it comes from show or working lines, the GSD is 22 to 26 inches tall at the shoulders and weighs between 50 and 95 pounds. There should be noticeable masculinity of males and femininity of females. German shepherd puppies for sale should be outgoing, friendly, and inquisitive. As he becomes older, you will notice your German shepherd will be polite but aloof with strangers and openly hostile against intruders and threats. Show lines, including pet dogs, are generally less intense and do not require as much exercise as working GSDs. The breed standard is similar between the lines, the major difference being on the interpretation of joint angles. American show dogs, for example, have an extreme angulation of the hind legs leading to an exaggerated slope of the topline. A German shepherd is a medium-large powerful dog with tremendous stamina. She has a distinctive head with a slight dome shape to the top skull and large open upright ears. Eyes are medium, almond-shaped, and steady in their gaze. The breed is significantly longer than tall, a build that supports trotting effortlessly over long distances with short explosions of speed. A German shepherd's athleticism has ensured its longstanding excellence and versatility in police and military operations, search and rescue, bomb detection, drug-sniffing, criminal apprehension, agility competitions, Schutzhund, herding trials, physical assistance, and guide dog for the blind.
Many Colors of the German Shepherd Puppy for Sale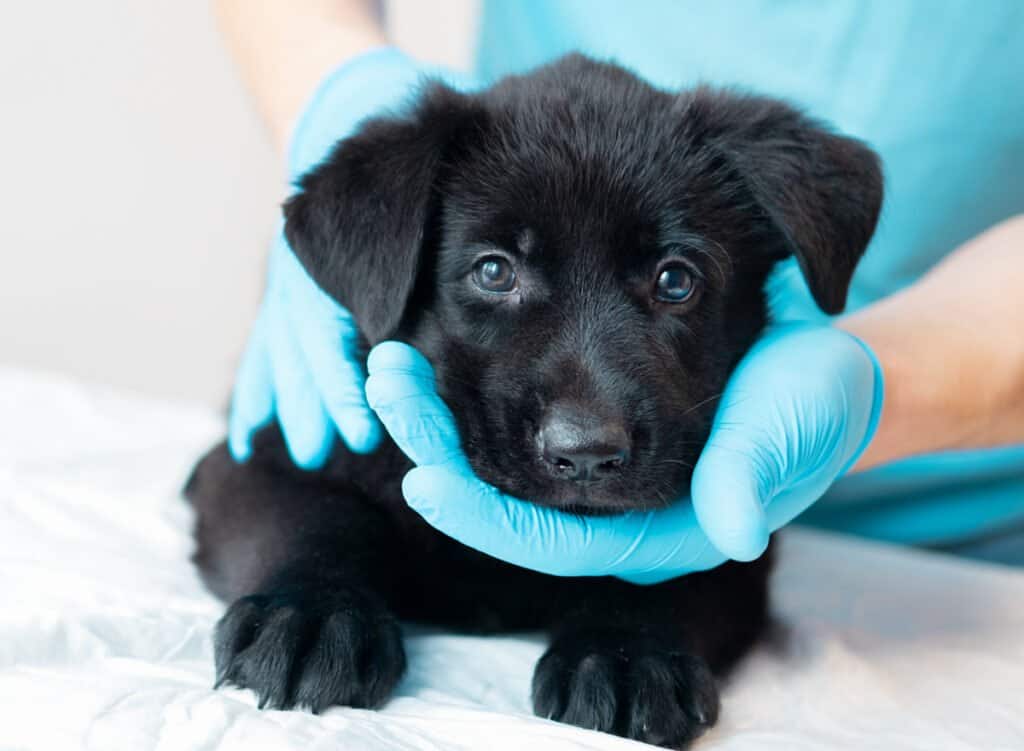 Show dogs emphasize bold colors preferably of the well-known black and tan saddle markings. West German show dogs are often red or mahogany in place of tan. In working lines, you will see darker colors, especially in the DDS dogs. Other colors in a German shepherd for sale are solid black, white, sable, bicolor, blue, liver, and Panda. Panda dogs look like tricolor German Shepherds, a result of a rare KIT gene that causes piebald or a specific expression of white spotting. A sable German shepherd is one with different bands of color on one hair shaft. In the GSD, sable usually shows up as black and tan in a nondescript pattern that does not show a distinct saddle. Some sables look like they have more of a wolf coloration. Blue represents a black German shepherd with a dilution gene that gives the coat a grayish color. Blue and liver GSDs as well as other dilutions receive severe penalty points in the show ring. Nevertheless, blue and liver show up in place of the dark areas in the sable German Shepherd as well as black and tan and bicolor. A white German shepherd can register in the AKC as a purebred but cannot show in conformation classes. Separate registries have established a community for the White German Shepherd whereby owners can show against their peers just like comparable conformation contests in the AKC. A bicolor dog is a black German shepherd with minimal tan markings.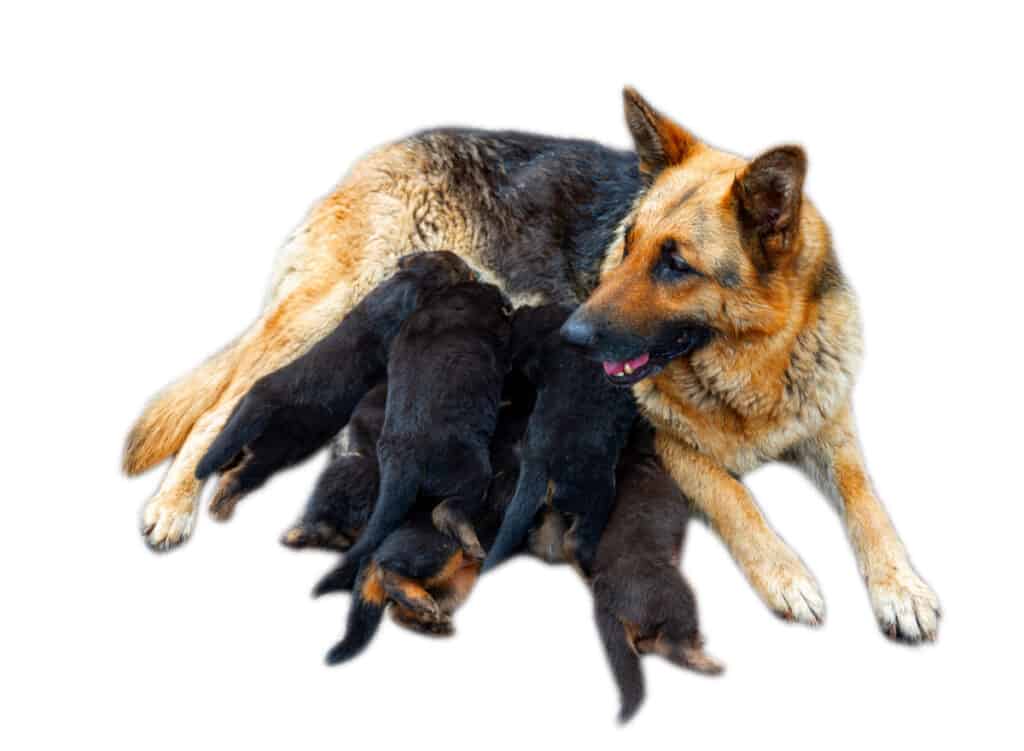 Different Types of German Shepherd Puppies near Me
A German shepherd can illustrate several goals of different groups for the breed. After its beginning in 1899, thanks to Max Stephanitz of Germany, the German shepherd developed into seven major lines. Stephanitz placed heavy emphasis on the GSD as the ideal working dog while the breed that shipped to America developed into a proficient show champion where looks and conformation were top priorities.
American show
Canadian show
American pet – Ancestors are American show lines
West German show
West German working
Czech working
East German working – DDS line
Experts agree that show dogs make better pets than working pedigrees. Working dogs are more intense than show animals and need considerably more exercise. However, when considering the breed, all German Shepherds need a considerable time commitment to exercise and mental stimulation. Pets usually get along better with children and other dogs than working dogs.
How to Care of Your German Shepherd
It is always exciting to bring a new dog home. When you introduce a German shepherd to your family, you may feel you have joined the "cool club." You want to provide your Shepherd with the appropriate care. German Shepherds come from a long line of working dogs and a herding heritage. Your GSD will not do well alone nor will she like not having anything to do all day. You need to provide your dog not only with attention, food, and love but also a meaningful job or activity. Agility, Schutzhund, herding, or interactive games can keep your Shepherd's mind active. Be imaginative. Your GSD puppy should eat three or four times a day. An adult German shepherd should eat four to six cups of high-quality dog food daily with an animal protein source in the first five ingredients. Divide feedings to help prevent bloat or GDV. Your Shepherd may need as much as two hours of exercise daily. Best results come from breaking physical activities into two or more sessions a day rather than doing all of them at once. For your young German shepherd puppy, you need to focus on not injuring its growth plates. Never pressure a puppy to keep going beyond the point he has indicated he wants to stop. German shepherd puppies need more time than some other dog breeds on socialization. The GSD is beginning to develop a reputation for unprovoked biting and is receiving bans in alarming numbers because of poor breeding, improper training, neglect of socialization, and handler mistreatment.
Genetic Health Problems of the German Shepherd Puppy
Health problems can manifest early in the life of a German shepherd puppy or appear later in her life. A couple of the most common growth abnormalities are hip and elbow dysplasia. Dysplasia causes joint incongruences that lead to pain and eventual arthritis. Panosteitis is generalized bone inflammation fairly common in German shepherd puppies that causes severe pain and may have a link to overnutrition in fast-growing breeds. The GSD breed can also suffer from diabetes, bloat, hemophilia, von Willebrand's disease, epilepsy, and degenerative myelopathy. Large deep-chested breeds are vulnerable to gas distension of the stomach with life-threatening complications such as gastric torsion. Hemophilia and von Willebrand's both involve abnormalities in the clotting pathways or factors of blood. Epilepsy is often a genetic problem, and the affected dog will have seizures with no known source. Finally, DM is a progressive neurologic disease. Dogs begin with a weak gait and eventually suffer paralysis. When you are trying to choose from German Shepherd puppies for sale, the AKC recommends you check that the parents have had hip and elbow evaluations. Such thorough analyses may be impossible if you acquire your dog through a German Shepherd rescue.
What kind of Grooming does your GSD need?
You should brush your German Shepherd every three to five days. Usually, you need a pin brush and a de-shedding tool. The former helps give the guard hairs shine while the latter removes loose tufts from the undercoat. When your dog experiences heavy sheds during fall and spring, you will probably need to brush her every day. Clip nails and bathe in a mild shampoo about every six weeks.